Find all the details on our shows and digital content.
Filter by Brand:
All
v
Max
Noovo
ELLE Fictions
SYNOPSIS : A tight-knit circle of friends is shocked after a member of the group dies from suicide unexpectedly. Each friend realizes that they need to finally start living life as they cope with their loss. 
À table avec mon ex (Eating with my ex)
SYNOPSIS : This new reality show, adapted for Quebec but which achieves a great worldwide success, will reunite each episode two ex-couples. The purpose of their meeting? Ask questions that have gone unanswered or – do we ever know! – reclaim the beloved. Each dish will be accompanied by questions that will raise the discussion between the two participants. What will this dinner have changed for the two former lovers? Everything will take place under the watchful eye of a frank and spontaneous narrator who will comment on the discussions with humor.
SYNOPSIS: Ambulances animales is a documentary series that follows the hectic, exciting workdays of a real squad entirely dedicated to animal medical urgencies. Throughout the series, Ambulances animales will present spectacular rescues, special transport, reanimation, and emergency procedures. The series stars veterinarians, animal shelter workers and wildlife specialists that all share a common passion: a love of animals.
SYNOPSIS : What happens after Greece … ? Discover the behind the scenes of Occupation Double Grèce candidates after their experience. What have they become ? What happened that we are not aware of ? 
SYNOPSIS : Forensic anthropologist Dr. Temperance "Bones" Brennan and cocky F.B.I. Special Agent Seeley Booth build a team to investigate murders. … But both Agent Booth and Dr. Brennan and her team come up again a variety of interference from red tape, corruption, and local noncooperation.
Host: Jérémy Demay
SYNOPSIS: Buzz, the weekday show hosted by Jérémy Demay, is a compilation of the most remarkable viral videos on the web. Joined by 4 extremely funny collaborators, they take great pleasure in presenting the most surprising videos and adding their hilarious reactions and comments!
Chicago Med is part of the successful franchise that includes Chicago Police, Chicago Justice and Chicago Fire, and is broadcast on the NBC and Global television networks
SYNOPSIS: This series from the Chicago franchise brings us into the daily chaos and excitement of a state-of-the-art emergency room. The staff of Chicago Med are back on duty for a third season. On the menu: power games, emotional intrigues, acts of courage and the hopes of a thousand and one patients.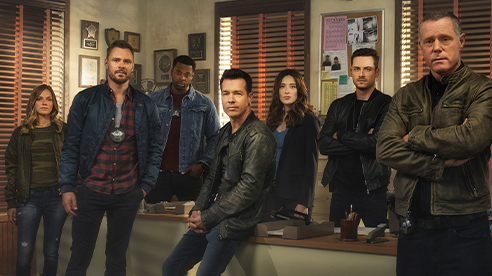 Chicago Police is the 2nd series of the successful Chicago franchise. The show airs on NBC and Global.
SYNOPSIS: Whether uniformed cops or members of the Intelligence Unit, the recruits of Chicago Police's District 21 put their lives on the line every day.
The sixth season of the series dedicated to the work of the Chicago Police Intelligence Unit, at a time when major reforms affect the team of devoted Detective Sergeant Hank Voight.